TESTING ORNAMENTAL CHILI PEPPER PRE-CULTIVARS
Jéssica Morais Cunha

Thâmara Figueiredo Menezes Cavalcanti

Cláudia Pombo Sudré

Samy Piment

Cíntia dos Santos Bento

Lígia Renata Almeida da Silva

Rosana Rodrigues
Keywords:
Capsicum annuum L., ornamental plant breeding, phenotyping.
Abstract
There is a wide new frontier for science and innovation in agriculture, including new cultivars development. Ornamental plants in Brazil represent an open market that should be targeted by breeders, since it has become a profitable alternative for agribusiness, thus demanding the development of new genotypes to attend both growers and consumers. Twelve chili peppers genotypes were characterized in relation to morphoagronomic characteristics, as well as to acceptance and preference of consumers. Plants were grown in a greenhouse using randomized block design. Sixteen qualitative and thirteen quantitative descriptors related to ornamental purposes were considered. At the beginning of fruit maturation, three plants of each genotype were exposed to consumers' evaluation to assess their acceptance and preferences. Structured queries were applied individually to 89 people in order to determine their perceptions regarding the ornamental peppers. All genotypes have met the established standards for ornamental peppers: compact and erect plants, erect and intense colored fruits. Nevertheless, consumers sensorial perception was highly variable. The highest preference scores were attributed to HPO 03 (hybrid) and to PIMOR 05 (pure line). These two genotypes have some traits in common, such as short internodes, bright and intense fruit color and larger canopy diameter. All evaluated genotypes are promising for potting and have potential to be registered and protected. HPO 03 and PIMOR 05 were the most preferred by consumers. HPO 12 has great flowering potential to explore differing from most cultivars available in the market. HPO 04 can be indicated for cultivation in gardens and hanging gardens.
Downloads
Download data is not yet available.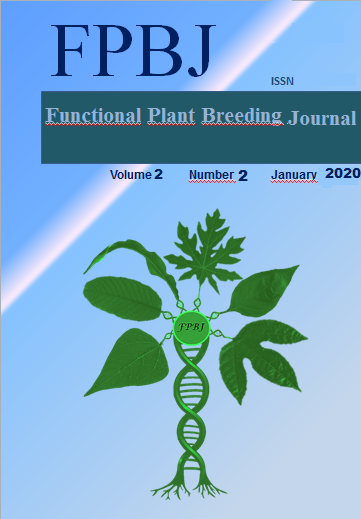 How to Cite
Morais Cunha, J., Figueiredo Menezes Cavalcanti, T., Pombo Sudré, C., Piment, S., dos Santos Bento, C., Renata Almeida da Silva, L., & Rodrigues, R. (2020). TESTING ORNAMENTAL CHILI PEPPER PRE-CULTIVARS. Functional Plant Breeding Journal, 2(2). Retrieved from http://fpbjournal.com/fpbj/index.php/fpbj/article/view/80