ENVIRONMENTAL STRATIFICATION OF THE CORN SECOND SEASON ON THE WEST AND MID-WESTERN OF PARANÁ
Adilson Ricken Schuelter

Jonatas Marcolin

Talles de Oliveira Santos

Debora Pereira

Hugo Zeni Neto

Lucimar Pereira Bonett

Ivan Schuster
Keywords:
Factor analysis, multivariate analysis, Murakami and Cruz method.
Abstract
Maize is the main crop of Paraná State second season, however the heterogeneity of the environmental conditions creates a challenge for the selection of adapted superior genotypes. The objective of this study was to stratify the environments of the Western and Mid-western mesoregions, to identify the environments that are essential for the selection of genotypes to ensure yield and crop moisture. Data sets regarding the yield and crop moisture of 16 commercial hybrids were used, sourced from Cooperativa Central de Pesquisa Agrícola (COODETEC) Value for Cultivation and Use ("VCU"), testing in a randomized complete block design with two replicates, of crops grown in the interim-harvests of 2014 and 2015 in the west of Paraná, in the Cascavel, Toledo and Foz do Iguaçu microregions, the Mid-western Campo Mourão microregion and Mariluz, constituting the Caiuá sandstone formation. The evaluation of the representativeness of the environments was carried out over one year of study, through environmental stratification analysis, using the factor analysis methodology. The results of the environmental stratification demonstrated that trials in the same environment provide redundant results, both for yield and for crop moisture. There were no gains for the selection of superior genotypes and the positioning in the different microregions yielded complementary data, aiding the selection. As such, for the West and West Central regions of Paraná, the Cascavel, Palotina, Mariluz, Campo Mourão and São Pedro do Iguaçu municipalities are indispensable for selection for yield and the Campo Mourão, Cascavel, Mariluz, Santa Terezinha do Itaipu, Palotina and São Pedro do Iguaçu municipalities are indispensable for selection for crop humidity.
Downloads
Download data is not yet available.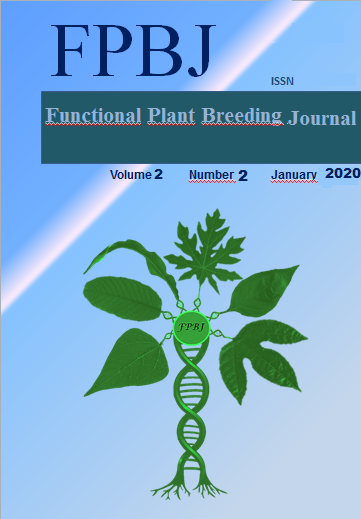 How to Cite
Ricken Schuelter, A., Marcolin, J., de Oliveira Santos, T., Pereira, D., Zeni Neto, H., Pereira Bonett, L., & Schuster, I. (2020). ENVIRONMENTAL STRATIFICATION OF THE CORN SECOND SEASON ON THE WEST AND MID-WESTERN OF PARANÁ. Functional Plant Breeding Journal, 2(2). Retrieved from http://fpbjournal.com/fpbj/index.php/fpbj/article/view/79