A NEW CLASSIFICATION PROPOSAL OF COEFFICIENTS OF VARIATION FOR MORPHO-AGRONOMIC TRAITS IN SNAP BEANS
Douglas Mariani Zeffa

Luiz Júnior Perini

Leonel Vinicius Constantino

Gustavo Henrique Freiria

Leandro Simões Azeredo Gonçalves²
Keywords:
accuracy, experimental error, experimental precision, green beans, Phaseolus vulgaris L.
Abstract
The aim of this study was to present a classification proposal for coefficients of variation (CV) of morpho-agronomic traits in snap bean. The CV values were obtained from 53 studies related with snap beans published between 1987 and 2018, yielding a total of 372 data. The following traits were assessed: commercial pod yield, total pods yield, pod length, pod diameter, mean pod weight, number of pods per plant, number of seeds per pod and fiber pod content. Since verified the normal distribution of data, the CV were classified by values of mean (m) and standard deviation (sd) as: low [≤ (m – 1sd)]; medium [(m – 1sd) < CV ≤ (m + 1sd); high [(m + 1sd) < CV ≤ (m + 2sd)] and very high [> (m + 2sd)]. The results indicated that the pod diameter, pod length, mean pod weight and number of seeds per pods are variables weakly influenced by the environment. In contrast, the other traits related had the highest range of CV. The classification proposed in the present study provides a useful tool for researchers interested in estimating the accuracy of their experiments.
Downloads
Download data is not yet available.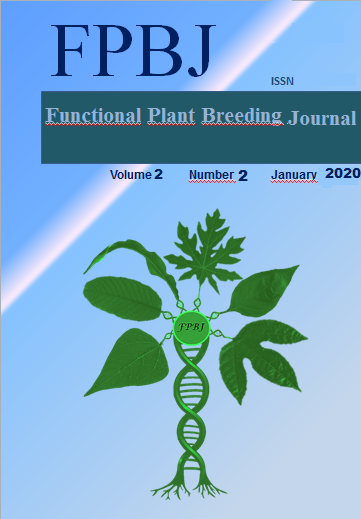 How to Cite
Mariani Zeffa, D., Júnior Perini, L., Vinicius Constantino, L., Henrique Freiria, G., & Simões Azeredo Gonçalves²L. (2020). A NEW CLASSIFICATION PROPOSAL OF COEFFICIENTS OF VARIATION FOR MORPHO-AGRONOMIC TRAITS IN SNAP BEANS. Functional Plant Breeding Journal, 2(2). Retrieved from http://fpbjournal.com/fpbj/index.php/fpbj/article/view/78