UENF PARAPOANA: A NEW SNAP BEAN CULTIVAR FOR NORTHERN AND NORTHWESTERN RIO DE JANEIRO STATE
Geraldo de Amaral Gravina

Geovana Cremonini Entringer

Camila Queiroz da Silva Sanfim de SantAnna

Derivaldo Pureza da Cruz

Rogério Figueiredo Daher

Marcelo Vivas

Lília Marques Gravina

Tamara Rebecca Albuquerque de Oliveira

Andrea Barros Silva Gomes

Carlos Misael Bezerra de Sousa

Marcelo Geraldo de Moraes Silva

Antônio Teixeira do Amaral Júnior

Francisco Maurício Alves Francelino
Keywords:
Phaseolus vulgaris L., plant breeding, SSD, cultivar release.
Abstract
The UENF Parapoana line was obtained after the F6 generation by the single-seed descent (SSD) breeding method. With a grain yield of 3.71 t.ha-1 and an average of 57.78 pods per plant, this line is recommended for the north and northwest regions of Rio de Janeiro State to used to fresh snap bean or dry grain.
Downloads
Download data is not yet available.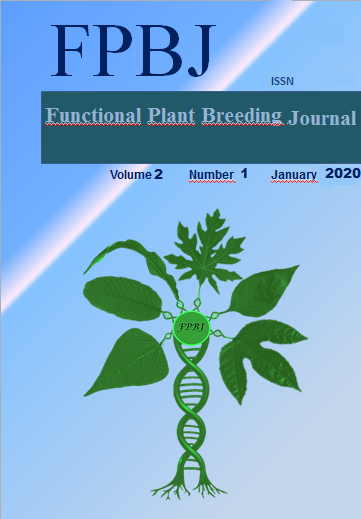 How to Cite
de Amaral Gravina, G., Cremonini Entringer, G., Queiroz da Silva Sanfim de SantAnna, C., Pureza da Cruz, D., Figueiredo Daher, R., Vivas, M., Marques Gravina, L., Rebecca Albuquerque de Oliveira, T., Barros Silva Gomes, A., Misael Bezerra de Sousa, C., Geraldo de Moraes Silva, M., Teixeira do Amaral Júnior, A., & Maurício Alves Francelino, F. (2020). UENF PARAPOANA: A NEW SNAP BEAN CULTIVAR FOR NORTHERN AND NORTHWESTERN RIO DE JANEIRO STATE. Functional Plant Breeding Journal, 2(1). Retrieved from http://fpbjournal.com/fpbj/index.php/fpbj/article/view/71