QUANTITATIVE TRAIT LOCI IDENTIFIED FOR ROOT TRAITS ASSOCIATED WITH DROUGHT RESISTANCE IN COMMON BEAN
Boris Briñez

Isabella Laporte Santos

Caléo Panhoca de Almeida

João Guilherme Ribeiro Gonçalves

José Antônio de Fátima Esteves

Alisson Fernando Chioratto

Sérgio Augusto Morais Carbonell

Idupulapati Madhusudana Rao

Luciana Lasry Benchimol-Reis
Keywords:
Phaseolus vulgaris l., rhizotron, linkage mapping, water stress, molecular markers.
Abstract
Common bean has a high sensitivity to drought stress, particularly during reproductive development which reduces its yield. In this study we aimed to: (i) evaluate differences in shoot and root response of a mapping population of 107 recombinant inbred lines (RILs) of SEA 5 × AND 277 cross under drought stress, and (ii) identify the QTLs associated with improved plant performance under water stress treatment. Phenotyping was performed under greenhouse conditions where the plants were grown using rhizotrons under well-watered and water-stress conditions. Four QTLs were identified that are related to improved performance under water stress and three of them were related specifically to roots and these are located on chromosomes Pv1 and Pv6. Root superficial area trait explained 32.6% of the variance and may contribute to greater water uptake and improved adaptation of common bean under water stress conditions.
Downloads
Download data is not yet available.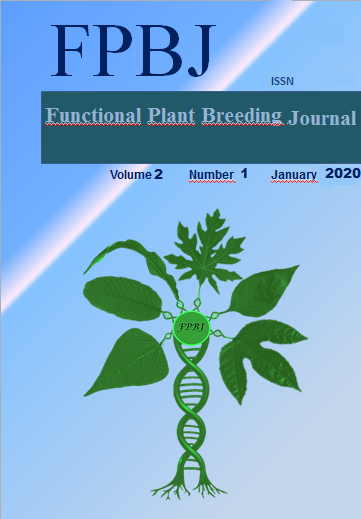 How to Cite
Briñez, B., Laporte Santos, I., Panhoca de Almeida, C., Guilherme Ribeiro Gonçalves, J., Antônio de Fátima Esteves, J., Fernando Chioratto, A., Augusto Morais Carbonell, S., Madhusudana Rao, I., & Lasry Benchimol-Reis, L. (2020). QUANTITATIVE TRAIT LOCI IDENTIFIED FOR ROOT TRAITS ASSOCIATED WITH DROUGHT RESISTANCE IN COMMON BEAN. Functional Plant Breeding Journal, 2(1). Retrieved from http://fpbjournal.com/fpbj/index.php/fpbj/article/view/66