COMPARATIVE ANALYSIS OF BAYESIAN AND FREQUENCY-BASED METHODS IN GENOMIC SELECTION FOR POPCORN POPULATION BREEDING AND OPTIMIZATION OF SNP MARKER DENSITY
Ismael Albino Schwantes

Antonio Teixeira do Amaral Júnior

Janeo Eustáquio de Almeida Filho

Pedro Henrique Araújo Diniz Santos

Fernando Rafael Alves Ferreira

Gabrielle Sousa Mafra

Marcelo Vivas

Yure Pequeno de Souza

Fabio Tomaz de Oliveira

Ismael Fernando Schegoscheski Gerhardt

Juliana Saltires Santos
Keywords:
Genomic selection, popcorn breeding, SNP markers, GBLUP method
Abstract
Bayesian methods and frequency-based approaches such GBLUP are used to estimate genomic genetic values in recurrent genomic selection. An important factor in
genetic gain is prediction accuracy; therefore, the objective of the present study was to estimate the prediction accuracy of the following methods: GBLUP, Bayes A, Bayes B,
Bayes Cπ, Bayes Lasso, and RKHS. After establishing the best method, different densities of SNP markers were tested. The experiment was implemented using an incomplete block design with three repetitions in two locations. Ninety-eight individuals were evaluated using 10,507 SNPs; the assessed traits were grain yield, popping expansion, and popcorn volume. The analyses were performed using R software and a ten-fold cross-validation system. The methods were compared using the t-test, via correlation networks and according to the time required to perform the analysis. The obtained results showed that the methods did not differ statistically with regard to selection accuracy, with high correlation estimates (<0.98); however, the GBLUP test stood out for its short analysis time and simplicity of execution. With regard to the distinct scenarios of SNP density tested with the GBLUP method, it was concluded that the use of ~ 4,800 SNPs led to results similar to those obtained with 10,507
SNPs. The GBLUP method is recommended for its greater speed in generating analytical results and for exhibiting robustness similar to that of other tested methods with the use of a small panel of SNPs.
Downloads
Download data is not yet available.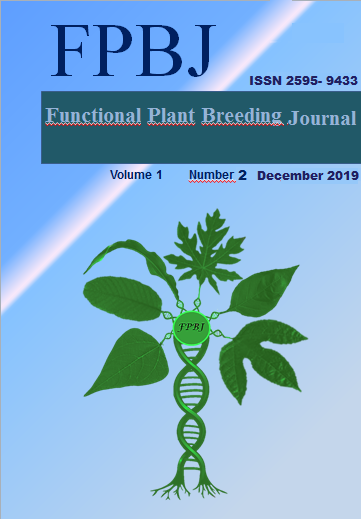 How to Cite
Albino Schwantes, I., Teixeira do Amaral Júnior, A., Eustáquio de Almeida Filho, J., Henrique Araújo Diniz Santos, P., Rafael Alves Ferreira, F., Sousa Mafra, G., Vivas, M., Pequeno de Souza, Y., Tomaz de Oliveira, F., Fernando Schegoscheski Gerhardt, I., & Saltires Santos, J. (2020). COMPARATIVE ANALYSIS OF BAYESIAN AND FREQUENCY-BASED METHODS IN GENOMIC SELECTION FOR POPCORN POPULATION BREEDING AND OPTIMIZATION OF SNP MARKER DENSITY. Functional Plant Breeding Journal, 1(2). Retrieved from http://fpbjournal.com/fpbj/index.php/fpbj/article/view/62