BIOMASS ENERGY PRODUCTION IN ELEPHANT-GRASS HYBRIDS
Liliane Barroso Sousa

Rogério Figueiredo Daher

Bruna Rafaela da Silva Menezes

Wanessa Francesconi Stida

Flávio Dessaune Tardin

Ana Kesia Faria Vidal

Andrea Barros Silva Gomes

Niraldo José Ponciano

Verônica Brito da Silva

Rafael Souza Freitas
Keywords:
Diallel, energy, plant breeding, Pennisetum purpureum
Abstract
Elephant grass is a forage plant widely spread in Brazil that was initially employed exclusively in the livestock sector as feed for cattle. This grass is characterized by its high productivity and high photosynthetic capacity. In addition to being used as forage, it has shown to be an alternative source of renewable energy. The objectives of the present study were to evaluate the morpho-agronomic traits of elephant grass hybrids and their parents for biomass energy production. The experiment was conducted in a randomized-block design with three replicates. The partial diallel was composed of 16 hybrids and two groups (males and females). Data were subjected to analysis of variance and the Tukey's mean comparison test (P < 0.05). Interaction was detected by the F test for the traits dry matter yield, plant height, and leaf width. Based on the mean values, hybrids H11 and H14 seem to be promising for dry matter production for energy purposes. Parent Porto Rico 534-B can be indicated in breeding programs.
Downloads
Download data is not yet available.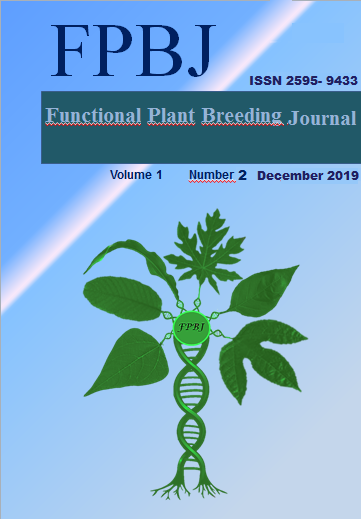 How to Cite
Barroso Sousa, L., Figueiredo Daher, R., Rafaela da Silva Menezes, B., Francesconi Stida, W., Dessaune Tardin, F., Kesia Faria Vidal, A., Barros Silva Gomes, A., José Ponciano, N., Brito da Silva, V., & Souza Freitas, R. (2020). BIOMASS ENERGY PRODUCTION IN ELEPHANT-GRASS HYBRIDS. Functional Plant Breeding Journal, 1(2). Retrieved from http://fpbjournal.com/fpbj/index.php/fpbj/article/view/60