FACTOR ANALYSIS AND GGE BIPLOT FOR ENVIRONMENTAL AND GENOTYPIC EVALUATION IN SUNFLOWER TRIALS
Iara Gonçalves dos Santos

Vinícius Quintão Carneiro

Isabela de Castro Sant'anna

Cosme Damião Cruz

Claudio Guilherme Portela de Carvalho

Aluísio Brígido Borba Filho

Alberto Donizete Alves
Keywords:
Mega-environment, genotype by environment interaction, stability, adaptability
Abstract
The definition of mega-environments is of critical relevance for a more accurate cultivar recommendation. This study aimed to verify the potentialities of the GGE biplot
and factor analysis for environmental evaluation, to investigate possible mega-environment, and to evaluate the adaptability and stability of sunflower genotypes. A factor analysis and GGE biplot were used for evaluating the individual effects of genotypes, environments, interactions and mega-environment discrimination based on the data from 16 sunflower genotypes evaluated in 14 environments. The factor analysis was able to identify mega-environment inconsistency and, consequently, excluded a mega-environment for recommendation. The genotype BRS 387 showed wide adaptability and high stability in the mega-environment to which it belonged, indicative of its efficiency for the region to which it is being tested. Although the GGE biplot has many interpretation possibilities, extra care is needed when making decisions because important phenomena may be left unidentified in this analysis.
Downloads
Download data is not yet available.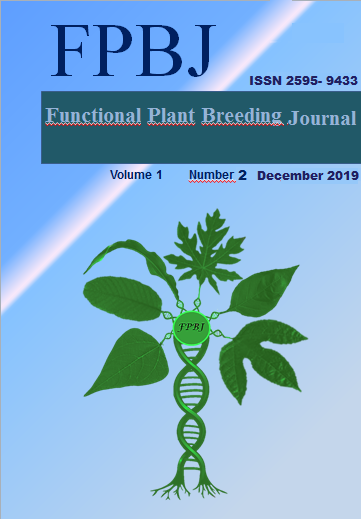 How to Cite
Gonçalves dos Santos, I., Quintão Carneiro, V., de Castro Sant'anna, I., Damião Cruz, C., Guilherme Portela de Carvalho, C., Brígido Borba Filho, A., & Donizete Alves, A. (2020). FACTOR ANALYSIS AND GGE BIPLOT FOR ENVIRONMENTAL AND GENOTYPIC EVALUATION IN SUNFLOWER TRIALS. Functional Plant Breeding Journal, 1(2). Retrieved from http://fpbjournal.com/fpbj/index.php/fpbj/article/view/59