GENETIC VARIABILITY ON NUTRIENT CONTENTS IN Coffea canephora GENOTYPES CULTIVATED AT 850 METERS OF ALTITUDE IN TWO CROP SEASONS
Madlles Queiroz Martins

Fábio Luiz Partelli

Adésio Ferreira

Carolina de Oliveira Bernardes

Adelmo Golynski

Henrique Duarte Vieira

Marta Simone Mendonça Freitas

José Cochicho Ramalho
Keywords:
Conilon, Environment, Macronutrients, Micronutrients
Abstract
The variation in the climatic conditions throughout the year can influence the foliar nutrient contents in Coffea canephora, impacting the fertilization management. We evaluated the influence of the climatic seasonality on the foliar nutrient contents of 28 C. canephora genotypes cultivated at 850 meters of altitude, in cold winter. The work was carried out in Morrinhos, State of Goiás, Brazil. A randomized complete block design in a 2 x 28 factorial arrangement was used, with two crop seasons, winter and summer, and 28 C. canephora genotypes, with four replications, each replicate composed by five plants, and a spacing of 3.5 m x 1.0 m. The third and fourth pairs of leaves, of productive branches located in the middle third of the plant, were collected in six-year-old crops. The leaves were dried, and the mineral contents were analyzed, they were, then, subjected to multivariate analysis of principal components, dissimilarity and clustering. The results reveal the existence of different nutritional contents among leaves collected in the winter and summer. There is a tendency of higher macro and icronutrient contents in leaves collected in the winter than in the summer. The nutritional diagnosis should consider the group of genotypes and the crop season.
Downloads
Download data is not yet available.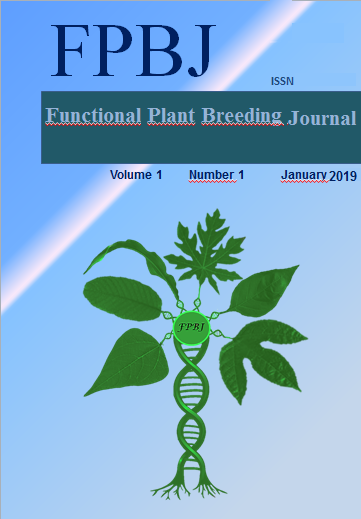 How to Cite
Queiroz Martins, M., Luiz Partelli, F., Ferreira, A., de Oliveira Bernardes, C., Golynski, A., Duarte Vieira, H., Simone Mendonça Freitas, M., & Cochicho Ramalho, J. (2018). GENETIC VARIABILITY ON NUTRIENT CONTENTS IN Coffea canephora GENOTYPES CULTIVATED AT 850 METERS OF ALTITUDE IN TWO CROP SEASONS. Functional Plant Breeding Journal, 1(1). Retrieved from http://fpbjournal.com/fpbj/index.php/fpbj/article/view/40