CONTRASTING PHOSPHORUS ENVIRONMENTS AS INDICATORS FOR POPCORN BREEDING LINES
Thiago Rodrigues da Conceição Silva

Antônio Teixeira do Amaral Júnior

Janeo Eustáquio de Almeida Filho

Marta Simone Mendonça Freitas

Amanda Gonçalves Guimarães

Samuel Henrique Kamphorst
Keywords:
Zea mays var, Everta, abiotic stress, mineral nutrition, PUE, diversity
Abstract
Phosphorus (P) is one of the most limiting factors in low investment agricultural systems. The aim of this study was to evaluate a panel of 29 popcorn maize lines to identify potential genotypes to be developed under P restriction conditions for integration into a breeding program. For this, these lines were phenotyped for complex traits of the shoot, root, and phosphorus use efficiency (PUE) at contrasting and controlled P environments (standard and low P contents of 22 and 4 mg dm−3, respectively) and genotyped with 15 SSR–EST markers. The results indicated that through selection in shoot traits it is possible to obtain indirect gains in traits related to root development that are difficult to measure. In addition, the selection based on traits of shoot and root development at an environment promotes indirect gains in another environment. In the environment supplied with low P, the P uptake were more important for PUE than internal utilization
of P. Lines P2, P4, P7, and P9 presented a better development of shoot and root system at the P-low environment, in addition to showing P content above the average in root and shoot. Based on genetic diversity, complementary and inheritance crosses were identified.
Downloads
Download data is not yet available.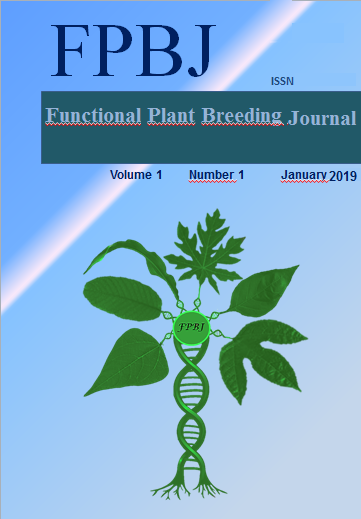 How to Cite
Rodrigues da Conceição Silva, T., Teixeira do Amaral Júnior, A., Eustáquio de Almeida Filho, J., Simone Mendonça Freitas, M., Gonçalves Guimarães, A., & Henrique Kamphorst, S. (2018). CONTRASTING PHOSPHORUS ENVIRONMENTS AS INDICATORS FOR POPCORN BREEDING LINES. Functional Plant Breeding Journal, 1(1). Retrieved from http://fpbjournal.com/fpbj/index.php/fpbj/article/view/35