SELECTION OF PODS IN F4:5 GENERATION OF SOYBEAN TO UNDERSTAND ASSOCIATION BETWEEN YIELD COMPONENTS USING PATH ANALYSIS IN THE GREENHOUSE AND FIELD ENVIRONMENTS
Amilton Ferreira da Silva

Francisco Charles dos Santos Silva

André Ricardo Gomes Bezerra

Tuneo Sediyama

Daniele Piano Rosa

João Pedro Ambrósio Barros
Keywords:
correlation, generation advancement, plant breeding, Glycine max (L) Merril, number of seeds per pod
Abstract
In soybean breeding, several traits should be considered to a new improved variety. Among these traits, the number of seeds per pod has substantial influence, because combined with a large total number of pods per plant raises productivity. However, in plant breeding it is essential to understand the behavior of this trait in subsequent generations. The aim of this study was to analyze the influence of pods containing 1, 2 or 3 seeds of F4 generation in the formation of the next generation and their respective effect on the frequency of the number of seeds per pod, as well as the association of the yield components by path analysis F4:5. The experiment was conducted in the greenhouse and in the field, during the 2013/2014 crop season. Two F4 lines were used (L1 - Line 1 and L2 - Line 2) and a cultivar (M 7908RR). The experimental design was a completely randomized block in a factorial 3 × 3 design, involving three genetic materials (L1, L2 and M 7908 RR) and three different seed numbers per pod (1, 2 and 3) from each genotype. Regardless of the number of seeds in selected pods in F4, the frequency in pods of the next generation (F5) plants was not modified. In both environments studied the pods with 2 and 3 seeds had a direct and positive effect on seed yield. The selection for productivity can be obtained with the selection of plants with greater quantity of pods with two and three seeds.
Downloads
Download data is not yet available.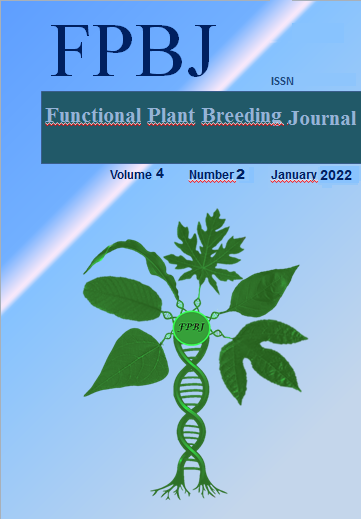 How to Cite
Ferreira da Silva, A., Charles dos Santos Silva, F., Ricardo Gomes Bezerra, A., Sediyama, T., Piano Rosa, D., & Pedro Ambrósio Barros, J. (2022). SELECTION OF PODS IN F4:5 GENERATION OF SOYBEAN TO UNDERSTAND ASSOCIATION BETWEEN YIELD COMPONENTS USING PATH ANALYSIS IN THE GREENHOUSE AND FIELD ENVIRONMENTS. Functional Plant Breeding Journal, 4(2). Retrieved from http://fpbjournal.com/fpbj/index.php/fpbj/article/view/155