EMPLOYMENT OF DIGITAL PHENOTYPING IN THE SELECTION OF FULLSIBLING FAMILIES OF PASSION FRUIT THROUGH REML/BLUP
Leandro Rafael Fachi

Willian Krause

Dhiego Pereira Krause

Amanda Justino Acha

Roberta Flávia Cipriano Machado

Henrique Duarte Vieira
Keywords:
Image analysis, Passiflora edulis Sims, seeds
Abstract
Digital phenotyping has been used to measure seed morphological traits, which are applied efficiently in the quantification of genetic diversity. The objective of this work was to estimate the genetic parameters to predict the genetic gain via indexes of selection of the REML/BLUP methodology using morphophysiological traits of seeds of sour passion fruit. Seeds from 98 full sibling families (FSF) were evaluated in a randomized block design with three replications and three plants per plot. Thirteen morphophysiological traits of the seeds were evaluated, and the morphological traits were measured through digital image analysis. The genetic parameters were estimated using the REML/BLUP methodology and the classic, multiplicative and Mulamba and Mock selection indexes were used to rank all individuals, where the 30 best FSFs per index were selected. Genetic variability was observed for the morphophysiological traits of the seeds of complete sibling families of passion fruit, with narrow-sense heritability of high magnitude for the traits of greatest morphophysiological interest tested. All selection indexes provided genetic gains, and the classic index had the greatest gains for the main traits of morphophysiological interest of the seed.
Downloads
Download data is not yet available.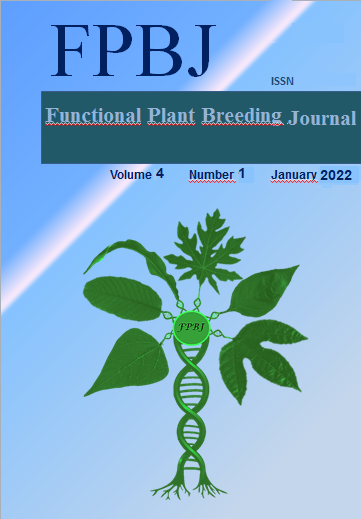 How to Cite
Rafael Fachi, L., Krause, W., Pereira Krause, D., Justino Acha, A., Flávia Cipriano Machado, R., & Duarte Vieira, H. (2022). EMPLOYMENT OF DIGITAL PHENOTYPING IN THE SELECTION OF FULLSIBLING FAMILIES OF PASSION FRUIT THROUGH REML/BLUP. Functional Plant Breeding Journal, 4(1). Retrieved from http://fpbjournal.com/fpbj/index.php/fpbj/article/view/135