SELECTION OF SOYBEAN F3 SEGREGANTING FAMILIES BY MULTIVARIATE MODELS
Ivan Ricardo Carvalho

Danieli Jacoboski Hutra

Robison Davi Patias Furlan

Victor Delino Barasuol Scarton

Renan Jardel Rusch Treter

Jaqueline Piesanti Sangiovo

Christian Szambelam Zimmermann

Francine Lautenchleger

Murilo Vieira Loro

Leonardo Cesar Pradebon
Keywords:
Glycine max L., genetic breeding, biometric strategies, computer learing, food security, sustainable development
Abstract
Breeding programs of soybean preconize the productivity as well as tolerance to biotic and abiotic stresses. In view of the lack of information regarding the multivariate selection of soybean segregating families, the objective of this study was to select superior soybean families and to define segregation patterns through multivariate models. The experiment was conducted in 2017/2018 the experimental design used was augmented blocks with 290 F3 segregating families, and seven cultivars homozygotes arranged in four repetitions. Was employed the frequency distribution, Euclidean algorithm, Tocher optimized grouping method, relative contribution methodology of Singh's and Artificial Neural Networks. Soybean segregating families express high genetic variability within and between the segregating populations of origin. The heterogeneities in the soybean segregation profile are derived from the genetic complementarity of the contrasting parents used. The multivariate models allow to define patterns for the selection of transgressive families that tend to the agronomic ideotype of the commercial cultivars.
Downloads
Download data is not yet available.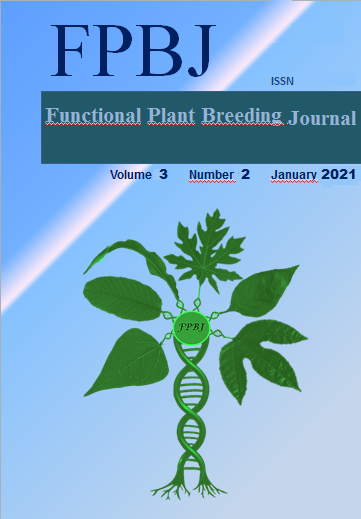 How to Cite
Ricardo Carvalho, I., Jacoboski Hutra, D., Davi Patias Furlan, R., Delino Barasuol Scarton, V., Jardel Rusch Treter, R., Piesanti Sangiovo, J., Szambelam Zimmermann, C., Lautenchleger, F., Vieira Loro, M., & Cesar Pradebon, L. (2021). SELECTION OF SOYBEAN F3 SEGREGANTING FAMILIES BY MULTIVARIATE MODELS. Functional Plant Breeding Journal, 3(2). Retrieved from http://fpbjournal.com/fpbj/index.php/fpbj/article/view/125