ESTIMATES OF GENETIC PARAMETERS AND SELECTION OF THREE-WAY CROSS CUPUAS-SU TREE PROGENIES (Theobroma grandiflorum)
Rafael Moysés Alves

Saulo Fabrício da Silva Chaves

Rodrigo Silva Alves

Jack Loureiro Pedroza Neto

Thalita Gomes dos Santos
Keywords:
fruit tree breeding, genetic selection, REML/BLUP, selection index
Abstract
In fruit tree breeding programs there is a need for effective selection methods to develop and identify superior genotypes. Thus, this study aimed to estimate genetic parameters and select superior genotypes for a genotypic aggregate in three-way cross progeny of cupuassu tree. As such, 25 three-way cross progeny were evaluated using a randomized block design, with five repetitions and three plants per plot. The following variables were measured over eight harvests: average number of fruits per plant; average fruit production per plant (kg); and incidence rate of witches' broom disease. The mixed model methodology (REML/BLUP) was used to estimate the components of variance and predict the genetic and genotypic values. The Additive Index was used to select families, and within these families select potential clones and genitors. The results showed the existence of genetic variability between families. This allowed the selection of progenies 125, 117, 130, 165, 131, 127, and 143, which resulted in a 14.3% gain in productivity, maintaining extremely low levels of witches' broom. In each progeny, individuals were selected to be recommended to producers in the form of clones, after clonal tests, and others that could be used as parents in the genetic breeding program of cupuassu tree, aiming to obtain more genotypes that are productive and with greater durability of resistance to witches' broom, in the field.
Downloads
Download data is not yet available.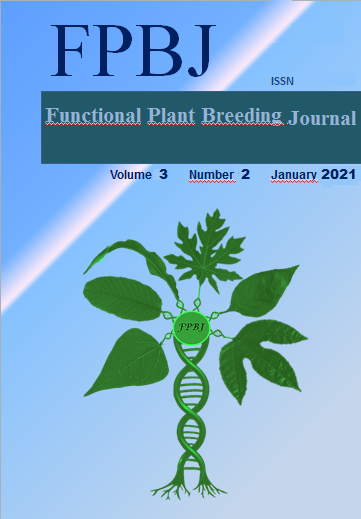 How to Cite
Moysés Alves, R., Fabrício da Silva Chaves, S., Silva Alves, R., Loureiro Pedroza Neto, J., & Gomes dos Santos, T. (2021). ESTIMATES OF GENETIC PARAMETERS AND SELECTION OF THREE-WAY CROSS CUPUAS-SU TREE PROGENIES (Theobroma grandiflorum). Functional Plant Breeding Journal, 3(2). Retrieved from http://fpbjournal.com/fpbj/index.php/fpbj/article/view/124