GENETIC CONTROL OF WHITE LEAF SPOT RESISTANCE AND ASSOCIATION MAPPING IN CORN
Kaian Albino Corazza Kaefer

Adilson Ricken Schuelter

Leonardo Balbinotti Bastiani

Guilherme de Sousa Zilli

Ivan Schuster
Keywords:
Phaeosphaeria maydis, Zea mays, inheritance, association analysis
Abstract
This study aimed to evaluate the genetic control of the resistance to white leaf spot (WLS) in corn by the analysis of means and variances and to identify genomic regions associated with resistance. To study genetic control, the parents, F1, F2, and Backcross for each parent were used in field evaluation for WLS resistance. For association mapping, 71 inbred lines were genotyped by SNP markers and phenotyped in the field for WLS resistance in two years. Association analysis was carried out by mixed linear model and multiple regression. The genetic control of WLS resistance in corn is oligogenic, with a small number of genes with additive effects. Association analysis identified three genes for resistance on chromosomes 2, 3, and 8, and just the genes on chromosomes 2 and 3 were enough for complete resistance based on multiple regression analysis. Markers identified in this study can be used in Marker Assisted Selection after being validated in specific germplasms.
Downloads
Download data is not yet available.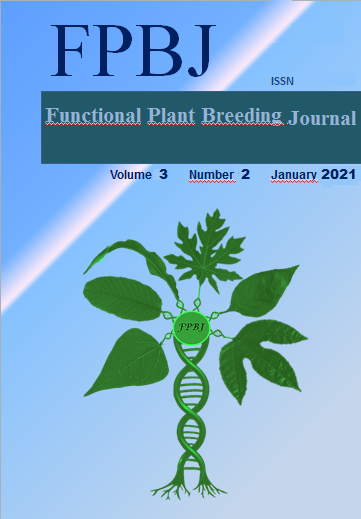 How to Cite
Albino Corazza Kaefer, K., Ricken Schuelter, A., Balbinotti Bastiani, L., de Sousa Zilli, G., & Schuster, I. (2021). GENETIC CONTROL OF WHITE LEAF SPOT RESISTANCE AND ASSOCIATION MAPPING IN CORN. Functional Plant Breeding Journal, 3(2). Retrieved from http://fpbjournal.com/fpbj/index.php/fpbj/article/view/123