BAYESIAN INFERENCE AND PREDICTION APPLIED TO THE POSITIONING OF WHEAT YIELD GROWN IN SOUTHERN BRAZIL
Ricardo de Oliveira Schneider

Ivan Ricardo Carvalho

Vinícius Jardel Szareski

Kassiana Kehl

Alexandre Moscarelli Levien

José Antonio Gonzalez da Silva

Danieli Jacoboski Hutra

Velci Queiróz de Souza

Francine Lautenchleger

Murilo Vieira Loro
Keywords:
Triticum aestivum L., frequentist and probabilistic statistics, fixed, random and probabilistic models, food security, sustainable development
Abstract
The best genotype aimed at a favorable environment, biometric alternatives should be applied with clarity to recomend which are the cultivars specific to the macro and micro regions. This work aims to estimate and predict the strategic positioning of wheat genotypes in the triticultural environments of Rio Grande do Sul, using fixed linear, mixed linear and bayesian models. The experimental design used was randomized blocks organized in a factorial scheme, with four crop seasons (2013, 2014, 2015, and 2016), three repetitions x nine growing environments. The AMMI and GGE adaptability and stability models were applied to the three statistical scenarios, defining that scenario I represents the estimates obtained by the fixed linear model, scenario II expresses the estimates and predictions obtained by the mixed linear model and scenario III shows the probabilistic predictions obtained by the Bayesian inference. Estimates of variance components and genetic parameters for wheat grain yield in the state of Rio Grande do Sul are expressed by 15% due to the inherent genetic effects of selecting the best genotype. The growing environments Vacaria - RS, São Gabriel - RS and Cachoeira do Sul - RS Season II revealed the greatest genetic contributions to maximize wheat grain yield regardless of the crop season. The mixed linear model allows the formation of a macroenvironment composed by the São Gabriel - RS and São Luiz Gonzaga - RS environments. Regardless of the model used, the highest grain yields were obtained through the ORS 1402, LG Oro, and Jadeíte 11 genotypes.
Downloads
Download data is not yet available.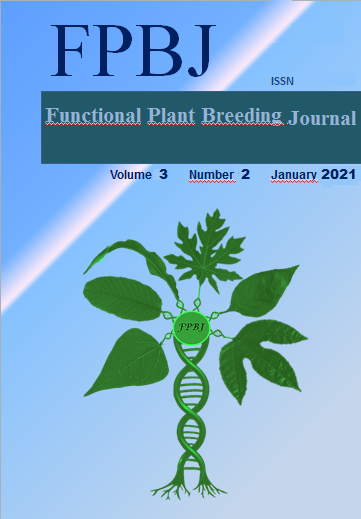 How to Cite
de Oliveira Schneider, R., Ricardo Carvalho, I., Jardel Szareski, V., Kehl, K., Moscarelli Levien, A., Antonio Gonzalez da Silva, J., Jacoboski Hutra, D., Queiróz de Souza, V., Lautenchleger, F., & Vieira Loro, M. (2021). BAYESIAN INFERENCE AND PREDICTION APPLIED TO THE POSITIONING OF WHEAT YIELD GROWN IN SOUTHERN BRAZIL. Functional Plant Breeding Journal, 3(2). Retrieved from http://fpbjournal.com/fpbj/index.php/fpbj/article/view/119