BIOCIDE POTENTIAL OF EXTRACTS OF Jatropha curcas L. ON FUNGI Hemileia vastatrix AND Cercospora coffeicola: CAUSAL AGENTS OF TWO MAIN DISEASES OF THE COFFEE TREES
Iasmine n Ramos Zaida

Luiz Antônio dos Santos Dias

Dandara Rego Muniz

Rafael Tassinari Resende

João Paulo Viana Leite

Olinto Liparini Pereira

Juliana Aparecida Diniz
Keywords:
Physic nut; green biocide; secondary metabolites; coffee rust; cercosporiosis.
Abstract
The toxicity of J. curcas opens possibilities of breeding program on the production of extracts for controlling the plant pathogens. The H. vastatrix and C. coffeicola fungi causing leaf rust and cercosporiosis diseases, and can be responsible for up to 50% and 30% coffee yield loss, respectively. We developed a biocide for controlling the both fungi, using leaf and stem bark samples from 12 families of J. curcas and submitted them to extraction by ethanol and chloroform solvents. In assays with H. vastatrix, we used 15 μL of spore suspension and 15 μL of the J. curcas extract. Assays with C. coffeicola were performed by using isolates from coffee leaves bearing the disease, grew in PDA medium. For each family, 15 mL of PDA medium and 1 mL of the plant extract were utilized. From the third day on, the mycelial growth was assessed every 24 hours, during 13 days, by evaluating the diameter of the colonies. Data on the antifungal effect of the extracts over C. coffeicola mycelia were subjected to two-way anova. The mean testing was performed as model-identity test, as there was an over-time growth. All 12 extracts of stem bark and leaves of J. curcas, prepared with either ethanol or chloroform, proved to be efficient in controlling H. vastatrix. For C. coffeicola, the extracts inhibited partially the mycelial growth. The extracts that had ethanol as a solvent were more toxic and this result is relevant because ethanol is more accessible to the farmers and the extraction is less expensive.
Downloads
Download data is not yet available.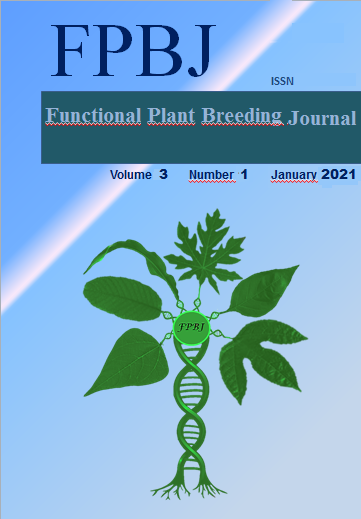 How to Cite
Ramos Zaida, I. n, Antônio dos Santos Dias, L., Rego Muniz, D., Tassinari Resende, R., Paulo Viana Leite, J., Liparini Pereira, O., & Aparecida Diniz, J. (2021). BIOCIDE POTENTIAL OF EXTRACTS OF Jatropha curcas L. ON FUNGI Hemileia vastatrix AND Cercospora coffeicola: CAUSAL AGENTS OF TWO MAIN DISEASES OF THE COFFEE TREES. Functional Plant Breeding Journal, 3(1). Retrieved from http://fpbjournal.com/fpbj/index.php/fpbj/article/view/103