AGRONOMIC EVALUATION OF SUNFLOWER CULTIVARS ADAPTED TO NORTHERN FLUMINENSE CONDITIONS AND GROWN FOR BIOMASS PRODUCTION
Avelino dos Santos Rocha

Camila Queiroz da Silva Sanfim de Sant'Anna

Geovana Cremonini Entringer

Rogério Figueredo Daher

Geraldo de Amaral Gravina

Ziraldo Moremos dos Santos
Keywords:
Sunflower, agronomics traits, biomass productions
Abstract
The growing interest in oil seeds in Brazil, mainly in sunflower, was boosted by the introduction of biodiesel in the market, and by the species excellent physical-chemical and nutritional characteristics, which intensified the search for more productive cultivars adapted to specific cultivation regions. The aim of the present study is to feature and assess five sunflower varieties (BRS 321, Embrapa 122, Helio 253, Multissoland Uguara 04) in order to find the best varieties to the Northern Fluminense region. The experiment was conducted at PESAGRO-RIO Experimental Station, which is located in Campos dos Goytacazes County, Rio de Janeiro State. Grain phenological, morphological and yield characteristics were assessed. The F test at 1% significance level showed significant effect
between varieties. Variety Helio 253 stood out as the most adapted to the soil and climatic conditions in the region. It was the most productive variety; 3,285.2 kg.ha-1 on average. Such outcome is correlated to its low plant height (1.24 m). This feature is favorable for the high incidence of wind in the regions, since it avoids damages to the stem and plant lodging.
Downloads
Download data is not yet available.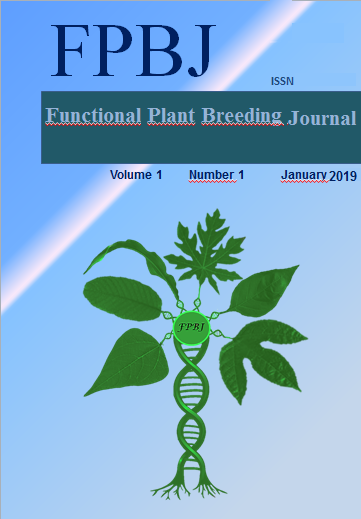 How to Cite
dos Santos Rocha, A., Queiroz da Silva Sanfim de Sant'Anna, C., Cremonini Entringer, G., Figueredo Daher, R., de Amaral Gravina, G., & Moremos dos Santos, Z. (2018). AGRONOMIC EVALUATION OF SUNFLOWER CULTIVARS ADAPTED TO NORTHERN FLUMINENSE CONDITIONS AND GROWN FOR BIOMASS PRODUCTION. Functional Plant Breeding Journal, 1(1). Retrieved from http://fpbjournal.com/fpbj/index.php/fpbj/article/view/37