METHODS OF ADAPTABILITY AND STABILITY APPLIED TO SOYBEAN CULTIVARS RECOMMENDATION
Annanda Mendes Costa

Luiz Alexandre Peternelli

Paulo Eduardo Teodoro

André Ricardo Gomes Bezerra

Felipe Lopes da Silva

Heloísa Rocha do Nascimento

Thais Roseli Corrêa
Keywords:
Glycine max, predictability, positioning, yield
Abstract
Currently, there are several methods for adaptability and stability analyses, which are distinguished according to the adopted concepts of stability and statistical principles. This study aimed to compare the adaptability and stability methods of Eberhart and Russell (1966), Cruz et al. (1989), and Lin and Binns (1988) modified by Carneiro (1998), besides to select soybean cultivars with high adaptability, stability, and grain yield. Ten trials of the competition were carried out with fifteen soybean cultivars during 2016/2017 and 2017/2018 crop seasons. The method of Lin and Binns (1988) modified by Carneiro (1998), stands out for recommendation of soybean cultivars, as it combines productivity, stability and adaptability for genotype classification, being an easy to interpret method.
Downloads
Download data is not yet available.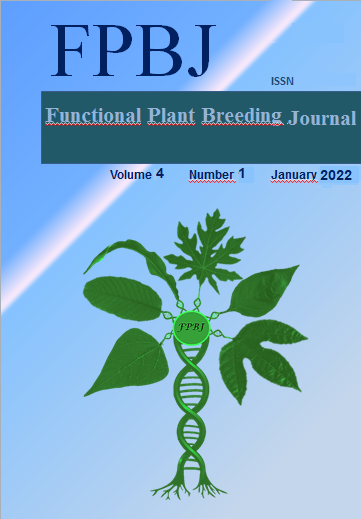 How to Cite
Mendes Costa, A., Alexandre Peternelli, L., Eduardo Teodoro, P., Ricardo Gomes Bezerra, A., Lopes da Silva, F., Rocha do Nascimento, H., & Roseli Corrêa, T. (2022). METHODS OF ADAPTABILITY AND STABILITY APPLIED TO SOYBEAN CULTIVARS RECOMMENDATION. Functional Plant Breeding Journal, 4(1). Retrieved from http://fpbjournal.com/fpbj/index.php/fpbj/article/view/141