IS IT POSSIBLE TO OBTAIN SHORT CYCLE COMMON BEAN (Phaseolus Vulgaris L.) LINES WITH GRAIN YIELD SIMILAR TO NORMAL CYCLE LINES?
Thais Lima Marques

Ângela de Fátima Barbosa Abreu

Magno Antonio Patto Ramalho
Keywords:
Plant breeding, quantitative genetics, plant selection, early maturity
Abstract
The cycle of the common bean crop is shorter than that of other species. Nevertheless, in Brazil, researchers have been attempting to shorten the cycle even more to allow three crops a year and obtain greater flexibility in crop management. The aim of this study was to investigate the viability of selecting lines with a shorter cycle and that have good grain yield coming from the same segregating population. To that end, crosses were made between a short cycle and normal cycle cultivars. In the F2 and F2:3 generations, progenies were separated into two groups based on short or normal cycle. After that, the progenies selected were evaluated in the F2:4 and F2:5 generations for grain yield, cycle, and yield per day. The mean of the short cycle progenies was 15% lower for grain yield and 10% lower in yield per day in relation to the normal cycle progenies. Furthermore, selection of lines among those of short cycle that have grain yield equivalent to the best normal cycle lines is of very low probability.
Downloads
Download data is not yet available.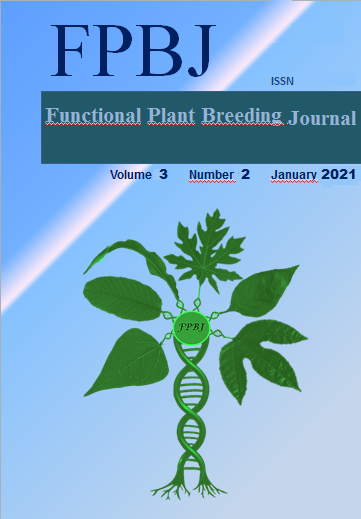 How to Cite
Lima Marques, T., de Fátima Barbosa Abreu, Ângela, & Antonio Patto Ramalho, M. (2021). IS IT POSSIBLE TO OBTAIN SHORT CYCLE COMMON BEAN (Phaseolus Vulgaris L.) LINES WITH GRAIN YIELD SIMILAR TO NORMAL CYCLE LINES?. Functional Plant Breeding Journal, 3(2). Retrieved from http://fpbjournal.com/fpbj/index.php/fpbj/article/view/118